OUR SUPPORTERS & SPONSORS
Whether you are looking to rent,buy, sell or emigrate to Aphrodites birthplace, take a look at VFM Cyprus (UK) for some super deals.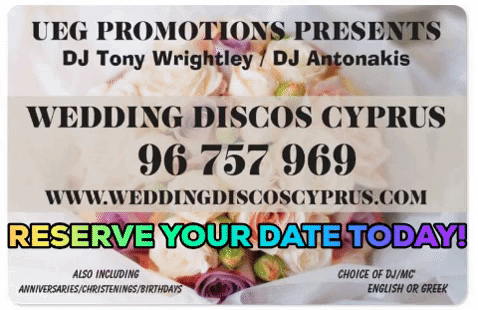 Planning to get Married ? How about a Destination Wedding on the Island of venus and where Aphrodite was born ? Check out Wedding Discos Cyprus !
Introducing VFM Cyprus (UK) Properties and what we do as a service and resource for both Licensed Estate Agents in The Republic of Cyprus and for you the Client and Overseas property hunter. VFM Cyprus (UK Properties is Your One Stop Shop bringing you the best deals from a wide selection of Estate agents across Cyprus saving you lots of time and running around ! Checkout our Featured Properties on our YouTube Channel, on our website and via our Social media outlets such as Facebook, LinkedIn. We're also on FreeAds UK and Yell.com